Exclusive live performance from beatboxer TATSUAKI at Haten MC BATTLE 1.5 confirmed!
Venue ticket lottery for the event ends Sunday, January 15. Not long left to grab your tickets!
January 13, 2023 (JST) – IzanagiGames, Inc. (located in Koto-ku, Tokyo, and led by CEO/Producer Shinsuke Umeda) has announced that beatboxer TATSUAKI will be giving an exclusive live performance at Haten MC BATTLE 1.5. The event is being held on February 11 at CLUB CAMELOT in Shibuya, Tokyo.
*Please note that all dates and times listed in this press release are in Japan Standard Time (JST).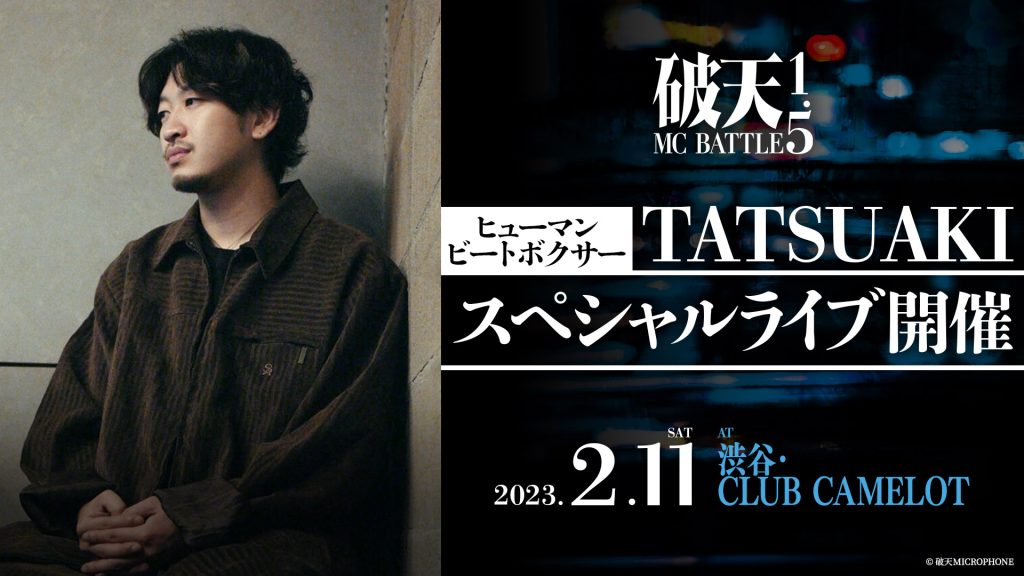 Catch the new school stylings of one of Japan's leading beatboxers when TATSUAKI takes to the stage for an exclusive live performance at Haten MC BATTLE 1.5 on February 11, 2023.
​
◆ Haten MC BATTLE 1.5 Tournament Overview:
​
◆ Lineup
MCs:
ANATSUME / Amg / Izayoi / whimsyboy / L-shitei / KAEDE / GachigireMC / CALDELABISTA / kurumi sora / gable / Dasso / Chiharu / Dr.Makidashi / Tomoshibi / Nidra Assassin / parmlight / HI-KING TAKASE / Ha0 / Hadakain / Hahanoshikyu / Higan / BOZ / Bonno / Madara / Mysterio / Mizokami Tanbo / Muyoku / MOGURA / Yamagen / yukarin(hy4_4yh) / Yurarin / Rushana
Beatboxer:
TATSUAKI
Presenter:
Ken Watabe (Unjash)
General Producer:
Kon-Umeda
Official DJ:
DJ Yuno
​
◆ Ticket Details
​
TATSUAKI's Profile
TATSUAKI made his debut at the Japan Beatbox Championship back in 2012 while still in high school, going on to secure a place in the top 4. He was crowned champion in 2016 in both the solo and tag divisions—the first Japanese artist to achieve the feat. He also reached the semi finals at the Asia Beatbox Championship two years running, ultimately ranking second worldwide in the tag division. Setting his sights on ever bigger stages, he has gone on to appear in the tag category at Grand Beatbox Battle—again, a first for a Japanese beatboxer. Nowadays you're just as likely to find TATSUAKI hosting events as you are to find him participating in contests around Sapporo and beyond, where he continues to wow audiences with his unique new school stylings.
◆ Socials
​
◆ What is Haten MC BATTLE?
Original beats, jaw-dropping visuals, and Japanese rap talent spanning the generations.
Newcomers and veterans alike compete for the top spot in this brand new MC battle tournament.
Haten MC BATTLE X.5 hosts newcomers to the scene, while Haten MC BATTLE X.0 features a veteran lineup. The two events are held on an alternating schedule, with up-and-coming MCs who make it through the qualifying tournament earning the right to go toe to toe with the big guns and a shot at rap stardom!
Come and witness a new dawn in the MC battle scene.
Contact: IzanagiGames, Inc.
Inquiries regarding Haten MC BATTLE may be sent to:
​
◆ About IzanagiGames
IzanagiGames is headquartered in Koto-ku, Tokyo. The company produces interactive entertainment experiences, with a focus on console games, and is geared towards directly accessing the global games market with titles made in collaboration with Japanese creators. By expanding the company's range of fund procurement, IzanagiGames aims to provide opportunities for exceptional creators to make new IPs and games which are then delivered as entertainment experiences to fans across the world. IzanagiGames has released titles including Death Come True, World's End Club, and Yurukill: The Calumniation Games on a variety of different platforms worldwide. The company has also entered into the webtoon market and founded its own webtoon studio, Tsukuyomi.
・IzanagiGames official website:
https://izanagigames.co.jp/en/
・・IzanagiGames official Twitter account: