Join presenters TKdakurobuchi and Kon-Umeda on the official Haten MICROPHONE YouTube channel for 6 hours of "Haten HIPHOP LIVE & TALK" from 17:00 on January 14!
Join us and a whole host of guests for an exclusive talk show packed with live performances—for one night only!
January 11, 2023 (JST) – IzanagiGames, Inc. (located in Koto-ku, Tokyo, and led by CEO/Producer Shinsuke Umeda) has announced that "Haten HIPHOP LIVE & TALK" will air on the official Haten MICROPHONE YouTube channel from 17:00 on January 14. The exclusive talk show will also feature an evening of live performances from a host of guest rappers and beatboxers. Rapper TKdakurobuchi, who competed in Haten MC BATTLE 1.0, and Haten MC BATTLE / Haten BEATBOX BATTLE general producer Kon-Umeda will be presenting the livestream.
*Please note that all dates and times listed in this press release are in Japan Standard Time (JST).
Livestream URL: https://youtu.be/v6z8ArKCG7w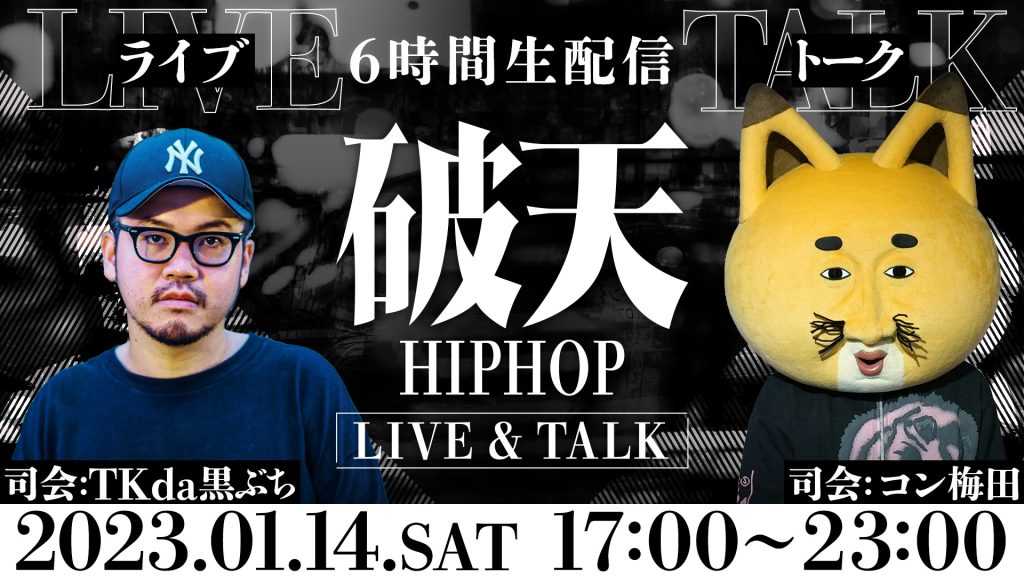 Haten HIPHOP LIVE & TALK Overview
◆ Date
1/14/2023 (Sat), 17:00 – 23:00 (Scheduled)
◆ Channel
Official Haten MICROPHONE Youtube channel
https://www.youtube.com/channel/UCK79h3gBc7w9aqosgFB-qWQ
◆ Details
Join us for an evening of exclusive discussion and live performances from a roster of Japan's hip hop and beatboxing talents—for one night only! Don't miss out. Guest details will be announced on the official Haten Twitter account (https://twitter.com/hatenmicrophone) from January 12.
◆ Presenters
・TKdakurobuchi
・Kon-Umeda (General Producer)
​
◆ What is Haten MC BATTLE?
Original beats, jaw-dropping visuals, and Japanese rap talent spanning the generations.
Newcomers and veterans alike compete for the top spot in this brand new MC battle tournament.
Haten MC BATTLE X.5 hosts newcomers to the scene, while Haten MC BATTLE X.0 features a veteran lineup. The two events are held on an alternating schedule, with up-and-coming MCs who make it through the qualifying tournament earning the right to go toe to toe with the big guns and a shot at rap stardom!
Come and witness a new dawn in the MC battle scene.
Contact: IzanagiGames, Inc.
Inquiries regarding Haten MC BATTLE may be sent to:
​
◆ About IzanagiGames
IzanagiGames is headquartered in Koto-ku, Tokyo. The company produces interactive entertainment experiences, with a focus on console games, and is geared towards directly accessing the global games market with titles made in collaboration with Japanese creators. By expanding the company's range of fund procurement, IzanagiGames aims to provide opportunities for exceptional creators to make new IPs and games which are then delivered as entertainment experiences to fans across the world. IzanagiGames has released titles including Death Come True, World's End Club, and Yurukill: The Calumniation Games on a variety of different platforms worldwide. The company has also entered into the webtoon market and founded its own webtoon studio, Tsukuyomi.
・IzanagiGames official website:
https://izanagigames.co.jp/en/
・IzanagiGames official Twitter account: