Haten MC BATTLE 1.0 is finally here! The action starts from 18:30, today, December 7 at RED° TOKYO TOWER SKY STADIUM! All eight first round match-ups will be streamed live on the official Haten MC BATTLE YouTube channel!
Featuring Ken Watabe (Unjash) as presenter, and a host of Japan's hottest rap talent, including Ryoff Karma, TKdakurobuchi, KOPERU and many more!
December 7, 2022 (JST) – IzanagiGames, Inc. (located in Koto-ku, Tokyo, and led by CEO/Producer Shinsuke Umeda) announced that Haten MC BATTLE 1.0 will take place today from 18:30 at RED° TOKYO TOWER SKY STADIUM. All eight first round match-ups will be livestreamed free of charge on the official Haten MC BATTLE YouTube channel.
Watch here: https://youtu.be/zcDqx9RALJs
Tune in for a one-of-a-kind mix of presenter Ken Watabe's spirited patter, fiery rap battles backed up with spectacular visuals, and DJ Yuno's handcrafted Haten-exclusive beats!
*Please note that all dates and times listed in this press release are in Japan Standard Time (JST).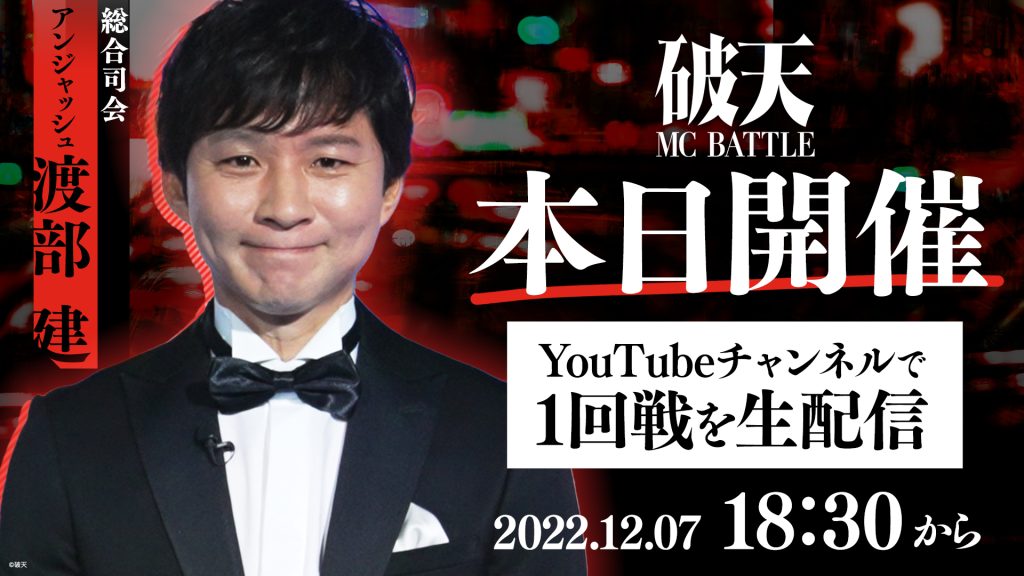 [Round 1 Match-Ups]
Match-up 1: Rekko vs MC Ritoru
Match-up 2: S-kaine vs Sukun
Match-up 3: NAIKA MC vs Tsubaki
Match-up 4: KT vs TKdakurobuchi
Match-up 5: KOPERU vs D.D.S
Match-up 6: Cypress Ueno vs Cool
Match-up 7: mckj vs PONEY
Match-up 8: Tokage vs Ryoff Karma
​
◆ Haten MC BATTLE 1.0 Tournament Overview:
Tournament name: Haten MC BATTLE 1.0
Date: Wednesday December 7, 2022 (JST) Doors: 18:00 / Start: 18:30 / Finish: 22:00 (scheduled)
Venue: RED° TOKYO TOWER SKY STADIUM (Tokyo Tower 5F)
Haten MC BATTLE 1.0 will also feature a bonus beatbox battle! Pioneering beatboxer AFRA will face off against the up-and-coming Fried Tofu! Don't miss out!
◆ Paid streaming tickets available to purchase! Stream archive available to watch until 23:59, December 13!
Paid livestream ticket sales: https://eplus.jp/haten-mcb/st/
Livestream tickets on sale until: 12/13/2022 (Tue) 20:00
​​
What is Haten MC BATTLE?
IzanagiGames brings you a brand new MC battle tournament fusing fully-fledged rap prowess with intense visual spectacle. Haten MC BATTLE aims to shake up the formula by introducing the brand new "Battlefield" system! Watch the hottest MCs from Japan's unique rap battle scene put their pride on the line as they compete for the top spot.
We're also bringing XR technology to the fore; utilizing projection mapping, and much more, to add an extra layer of presence and dynamism to the tournament—background imagery will shift in time to the beat, changing with each battle.
And if that wasn't enough, we've formulated a brand new battle system to help establish the next generation of star MCs. Haten MC BATTLE X.5 will host newcomers to the scene, while Haten MC BATTLE X.0 will feature veteran MCs. The two event types will be held on an alternating schedule, with newcomers who make it through the qualifying tournament earning the right to go toe to toe with the veterans, and a shot at rap stardom!
Come and witness a new dawn in the MC battle scene.
Contact: IzanagiGames, Inc.
Inquiries regarding Haten MC BATTLE may be sent to:
​
◆ About IzanagiGames
IzanagiGames is headquartered in Koto-ku, Tokyo. The company produces interactive entertainment experiences, with a focus on console games, and is geared towards directly accessing the global games market with titles made in collaboration with Japanese creators. By expanding the company's range of fund procurement, IzanagiGames aims to provide opportunities for exceptional creators to make new IPs and games which are then delivered as entertainment experiences to fans across the world. IzanagiGames has released titles including Death Come True, World's End Club, and Yurukill: The Calumniation Games on a variety of different platforms worldwide. The company has also entered into the webtoon market and founded its own webtoon studio, Tsukuyomi.
・IzanagiGames official website:
https://izanagigames.co.jp/en/
・IzanagiGames official Twitter account: