Haten MC BATTLE: Ryoff Karma animated LINE stickers now available!
LINE stickers featuring other Haten MC BATTLE 1.0 contenders to be released soon!
November 24, 2022 (JST) – IzanagiGames, Inc. (located in Koto-ku, Tokyo, and led by CEO/Producer Shinsuke Umeda) has announced the release of a collection of animated Ryoff Karma LINE stickers! Ryoff Karma is one of the contenders in the upcoming rap battle event Haten MC BATTLE 1.0. The stickers were designed by artist Nyan-Taniguchi, and more MC stickers are on the way!
Ryoff Karma Animated Stickers available now!

LINE Sticker Details
​
About Nyan-Taniguchi's (Takashi Taniguchi) Illustrations
Nyan-Taniguchi—half of the YouTube channel "Nyan-Taniguchi and Kon-Umeda Land"—has released 14 MC portrait illustrations on the official Haten MC BATTLE Twitter and Instagram accounts! In addition to the upcoming MC LINE stickers, merchandise based on the illustrations is also in the works!
Haten MC BATTLE Socials:
​
A giveaway to win a mic signed by rapper Ryoff Karma is currently underway!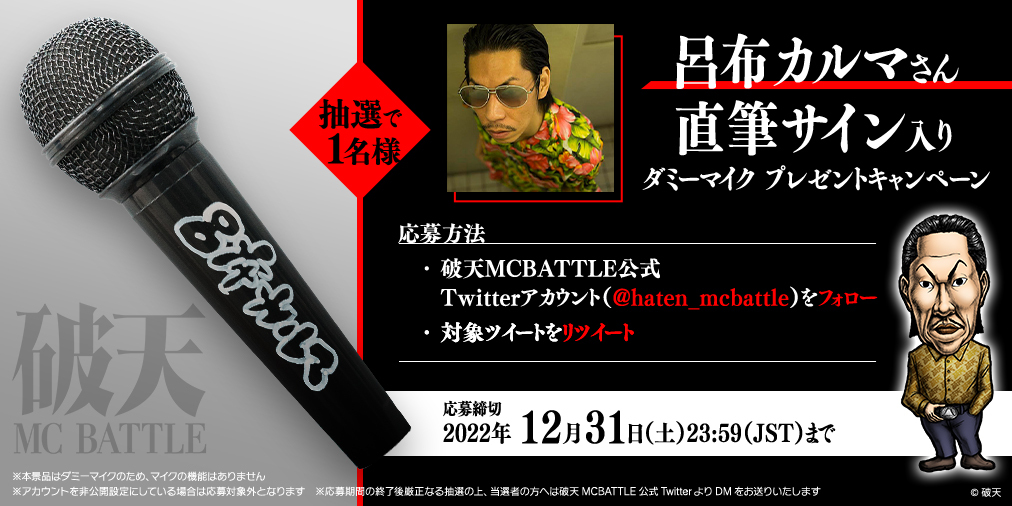 ​
◆ Haten MC BATTLE 1.0 Tournament Overview:
About RED° TOKYO TOWER Access Tickets
Dedicated entry tickets are required to access RED° TOKYO TOWER. Please present your eplus Haten MC BATTLE 1.0 ticket at the Haten MC BATTLE 1.0 reception on the 3F of the venue.
*RED° TOKYO TOWER access: 17:00–21:00
◆ Venue Ticket Details:
◆ Paid Streaming Ticket Details:
​◆ Haten MC BATTLE 1.0 YouTube Livestream: 8 First Round Match-ups
​
What is Haten MC BATTLE?
IzanagiGames brings you a brand new MC battle tournament fusing fully-fledged rap prowess with intense visual spectacle. Haten MC BATTLE aims to shake up the formula by introducing the brand new "Battlefield" system! Watch the hottest MCs from Japan's unique rap battle scene put their pride on the line as they compete for the top spot.
We're also bringing XR technology to the fore; utilizing projection mapping, and much more, to add an extra layer of presence and dynamism to the tournament—background imagery will shift in time to the beat, changing with each battle.
And if that wasn't enough, we've formulated a brand new battle system to help establish the next generation of star MCs. Haten MC BATTLE X.5 will host newcomers to the scene, while Haten MC BATTLE X.0 will feature veteran MCs. The two event types will be held on an alternating schedule, with newcomers who make it through the qualifying tournament earning the right to go toe to toe with the veterans, and a shot at rap stardom!
Come and witness a new dawn in the MC battle scene.
​​
Contact: IzanagiGames, Inc.
​
・About "Nyan-Taniguchi & Kon-Umeda Land"
A whimsical land home to Nyan-Taniguchi the cat and Kon-Umeda the fox. A place for livestreams, original anime, let's plays, song covers, and much, much more!
​
◆ Takashi Taniguchi's Profile
Animator and Illustrator. His self-produced cartoons, including Mr. Ando of the Woods, Mukidashi no Mitsuko, and Oshirimaeman, all of which were written, illustrated, edited, voiced, and sung by himself, have become something of a cult hit on YouTube. Since then, he has branched out to work on anime titles including TV Tokyo's Pikotaro No Lullaby Lullaby and TVQ Kyushu's Duppys Weather Forecast, as well as online adverts for Fuji TV's drama Ōoku and Kao's Essential hair care series.
If you have requests or commissions for Takashi Taniguchi, please get in touch via:
https://izanagigames.co.jp/contact
​
◆ About IzanagiGames
IzanagiGames is headquartered in Koto-ku, Tokyo. The company produces interactive entertainment experiences, with a focus on console games, and is geared towards directly accessing the global games market with titles made in collaboration with Japanese creators. By expanding the company's range of fund procurement, IzanagiGames aims to provide opportunities for exceptional creators to make new IPs and games which are then delivered as entertainment experiences to fans across the world. IzanagiGames has released titles including Death Come True, World's End Club, and Yurukill: The Calumniation Games on a variety of different platforms worldwide. The company has also entered into the webtoon market and founded its own webtoon studio, Tsukuyomi.
・IzanagiGames official website:
https://izanagigames.co.jp/en/
・IzanagiGames official Twitter account: