IzanagiGames to exhibit at TOKYO GAME SHOW 2022 jointly with MyDearest! Booth to feature their VR adventure game DYSCHRONIA: Chronos Alternate!
Take part in a futuristic criminal investigation at TGS! IzanagiGames will be exhibiting alongside MyDearest at Makuhari Messe from September 15, 2022 (JST)!
IzanagiGames, Inc. (located in Koto-ku, Tokyo, and led by CEO/Producer Shinsuke Umeda) has announced they will be exhibiting at TOKYO GAME SHOW 2022 (TGS 2022) alongside MyDearest (based in Chuo-ku, Tokyo, led by CEO Kento Kishigami). TGS 2022 begins on Thursday, September 15 (JST) at Makuhari Messe. The MyDearest/IzanagiGames booth will feature their new VR adventure game DYSCHRONIA: Chronos Alternate (DYSCHRONIA: CA)—the first installment of which is slated for release on September 23 (JST).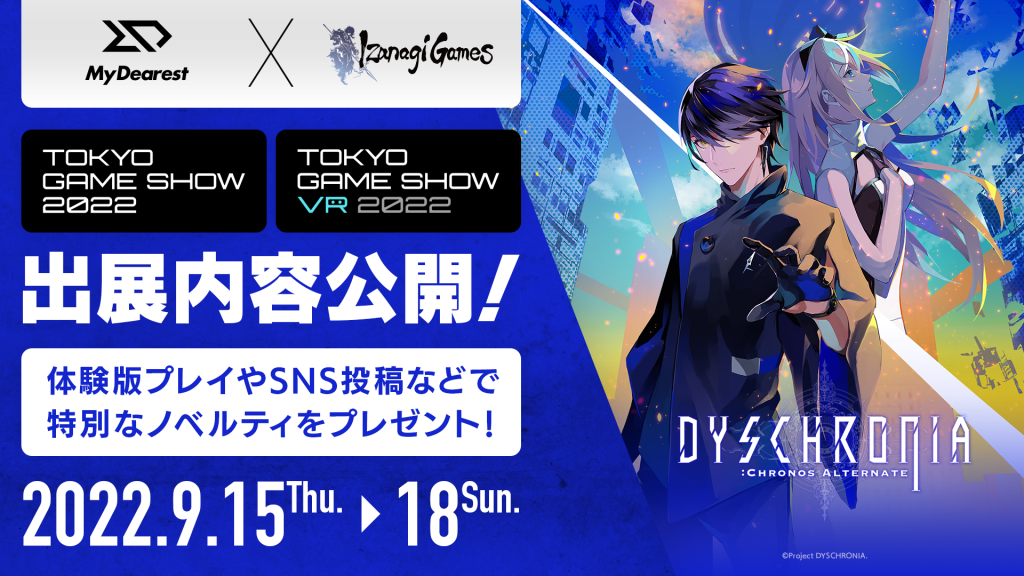 Attendees are invited to step into the DYSCHRONIA VR LAB—a booth inspired by the research institute that appears in the game itself. Here they'll have a chance to get hands on with a demo version of DYSCHRONIA: CA. Plus, visitors who follow the game's official Twitter account and join the official "Chronos Agit" Discord server will receive exclusive DYSCHRONIA: CA merchandise!
In addition to the physical TGS booth, the two companies will have a virtual presence at TGS VR 2022. The booth will feature a giant Lily (one of the characters from the game) as well as a replica of one of the in-game environments, giving visitors the chance to immerse themselves even further in the DYSCHRONIA world!
With the September 23 release just around the corner, what better way to get your DYSCHRONIA fix than becoming a criminal investigator of the future at TGS 2022? A whole array of experiences that only DYSCHRONIA: CA can offer awaits. We look forward to seeing you there!
​
◆ TGS2022 DYSCHRONIA: CA Exhibition
・DYSCHRONIA VR LAB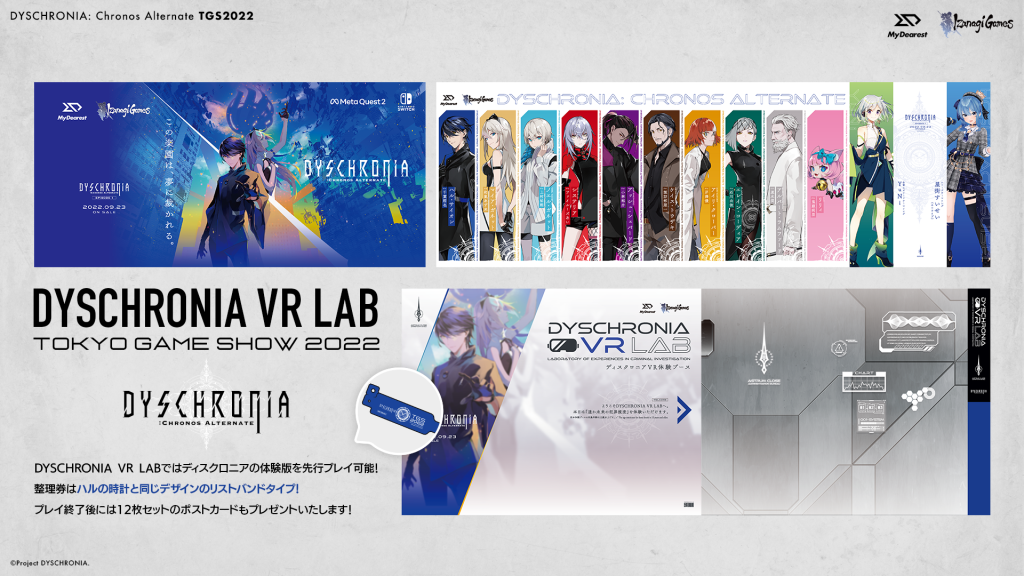 Visitors who play the DYSCHRONIA: CA demo at the DYSCHRONIA VR Lab will receive a set of exclusive postcards! Also, the wristbands that will be handed out to waiting players are based on the bracelets worn by the game's protagonist Hal. We hope these exclusive items and little details make for an extra-special TGS experience.
*The demo available at the MyDearest/IzanagiGames booth will differ from the demo on offer at the Meta Quest booth.
*Demo wristbands will be distributed in order of arrival once the exhibition opens.
​
・DYSCHRONIA: CA TOKYO GAME SHOW 2022 Giveaway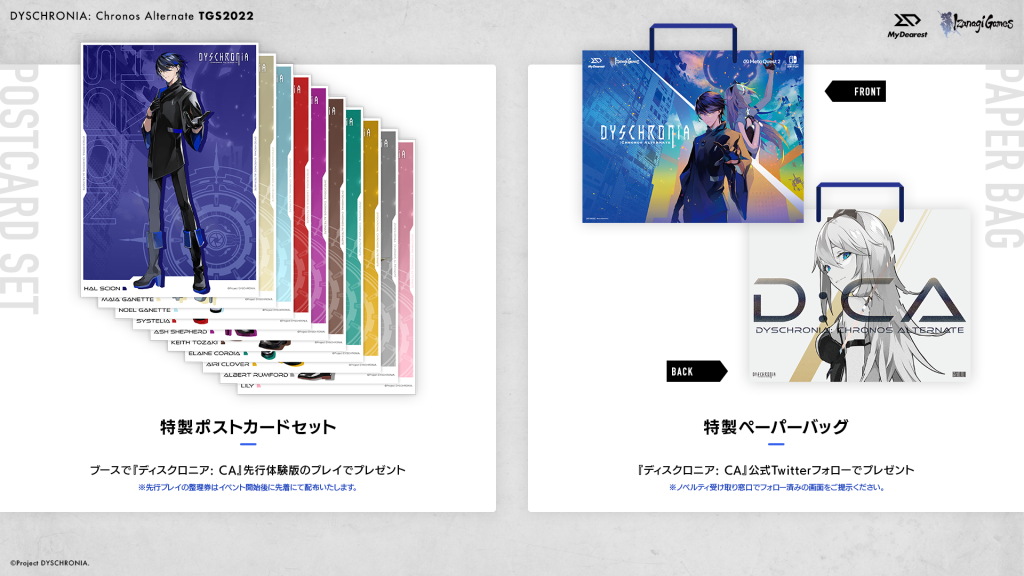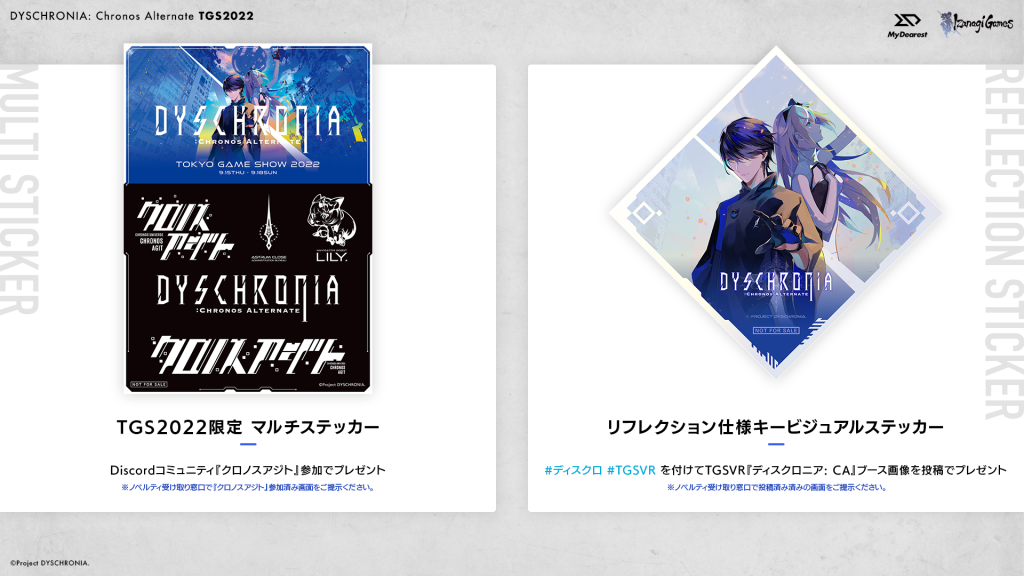 Special DYSCHRONIA paper bags will be given to everyone following the official DYSCHRONIA: CA Twitter account. Plus, if you've joined "Chronos Agit," the official Chronos Universe Discord server, you'll be given stickers only available at TGS 2022. Simply present your phone screen to show that you've followed/signed up!
​
・Dyschronia: CA TGS VR Giveaway
To receive a reflective DYSCHRONIA key visual sticker, just show your phone screen to staff at the MyDearest/IzanagiGames booth once you've posted about the TGS VR DYSCHRONIA: CA booth using the #DYSCHRONIA #TGSVR hashtags!
*Please be aware that merchandise stock is limited, and will be given out on a first come first served basis.
​
◆ TOKYO GAME SHOW VR 2022 Exhibition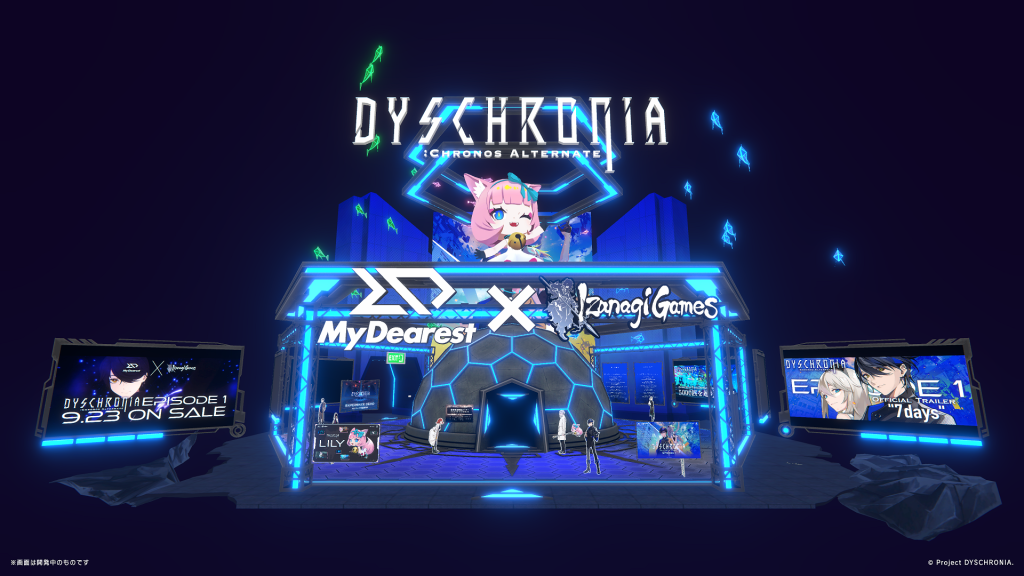 The DYSCHRONIA: CA booth will appear at TOKYO GAME SHOW VR 2022: the main event's simultaneous virtual counterpart! The booth is set to feature numerous characters including Lily—the player's in-game assistant—as well as Professor Rumford's laboratory; one of the environments the player encounters in DYSCHRONIA: CA.
<TGS 2022 Event Overview>
Dates (JST) : September 15 (Thu) : Business Day 10:00–17:00
September 16 (Fri) : Business Day 10:00–18:00
September 17 & 18 (Sat & Sun) : Open to public 10:00–18:00
* TGS will be open to the public between 14:00–18:00 on September 16.
* The event may start from 09:30 on September 17 and 18.
Venue: Makuhari Messe (Mihama-ku, Chiba, Japan) Exhibition halls 1–8 / International Conference Hall
Official website: https://tgs.cesa.or.jp/
<TGS VR 2022 Event Overview>
Date: 10:00 September 15 (Thu) – 00:00 September 18 (Sun)
Admission Fee: Free of charge
Platforms: Windows, Meta Quest 2 (via App Lab / Link), Oculus Rift / Rift S, HTC Vive / Vive Pro series, Valve Index
*A stand-alone Windows PC can also be used.
Official website: https://tgsvr.com/
​
◆ About Dyschronia: Chronos Alternate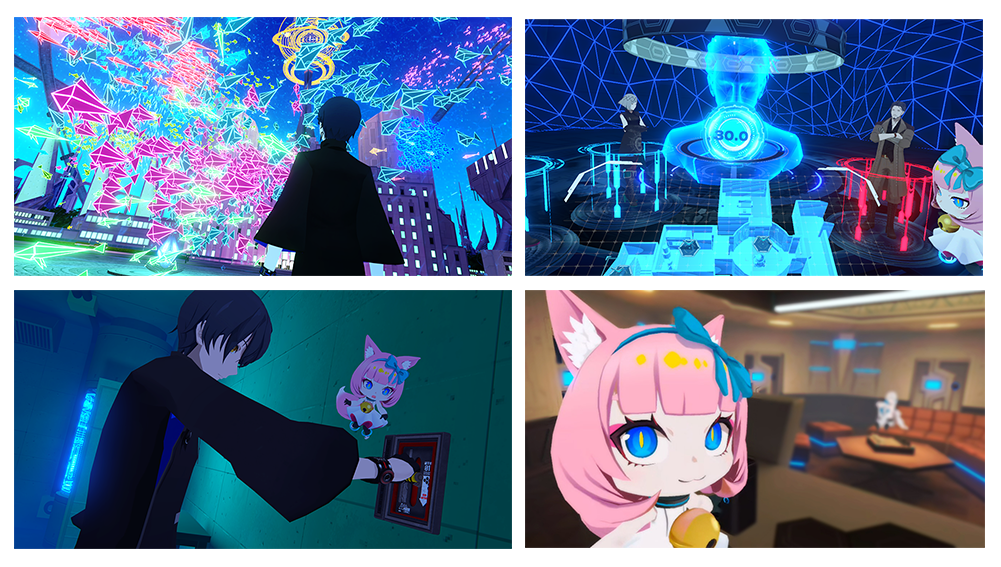 The story unfolds in a marine city of the distant future, where the crime rate is just 0.001%. As Supervisor Hal Scion, your mission is to solve an unprecedented, theoretically impossible murder.

With your left hand, use your special ability to dive into the owners' memories lingering in the items you find. Explore a city steeped in mystery and uncover the truth at the heart of the case. Brand new VR adventure game DYSCHRONIA: Chronos Alternate allows you to step into a breathtaking cinematic world, and experience an epic story like no other.
​
◆ Game Overview
Title: DYSCHRONIA: Chronos Alternate
Platforms: Meta Quest 2 (VR) / Nintendo Switch (Non-VR)
Developer/Publisher: IzanagiGames, Inc./ MyDearest Inc.
Genre: VR investigation adventure (VR) / Cinematic investigation adventure (Non-VR)
Single Player
Release date for Meta Quest 2 version (VR) Episode I – September 23, 2022 (JST)
Copyright notice: ©Project DYSCHRONIA.
DYSCHRONIA: CA Official website: https://dyschroniaca.com/en/
DYSCHRONIA: CA Official Twitter: https://twitter.com/dyschronia_en
Chronos Universe Official Twitter: https://twitter.com/chronos_unv
Chronos Universe Official YouTube channel: https://www.youtube.com/channel/UCzYfmRE2d6uWI3WorYAbXTw/videos
Chronos Universe Official Discord server "Chronos Agit":
https://chronos-universe.com/lp/chronosagit_2/
​
◆ About MyDearest
MyDearest Inc. is a VR startup specializing in planning and development. The company released Tokyo Chronos in 2019 and ALTDEUS: Beyond Chronos in 2020. The team comprises creators from a whole range of backgrounds including music, programming, and design. Kazuma Miki, CEO of Straight Edge Inc.—well known as the editor responsible for the Sword Art Online light novel—also collaborates with the company as an adviser.
MyDearest Official Website: https://mydearestvr.com/
MyDearest Official Twitter: https://twitter.com/mydearest_corp
​
◆ About IzanagiGames
IzanagiGames is headquartered in Koto-ku, Tokyo. The company produces interactive entertainment experiences, with a focus on console games, and is geared towards directly accessing the global games market with titles made in collaboration with Japanese creators. By expanding the company's range of fund procurement, IzanagiGames aims to provide opportunities for exceptional creators to make new IPs and games which are then delivered as entertainment experiences to fans across the world. IzanagiGames has released titles including Death Come True and World's End Club on a variety of different platforms worldwide.
・IzanagiGames' official website: https://izanagigames.co.jp/en/
・IzanagiGames' official Twitter account: https://twitter.com/izanagigames
・The Nintendo Switch logo and Nintendo Switch are trademarks of Nintendo.