Episode 5 of anime Nanaraki: Seven Lucky Gods features the voice of Hashiyasume Atsuko from BiSH!
Episode 5 of Nanaraki: Seven Lucky Gods, a series of anime shorts, will be released on the official Nanaraki YouTube channel at 12:00 on June 7 (JST).
IzanagiGames, Inc. (located in Koto-ku, Tokyo, Japan, and led by CEO/Producer Shinsuke Umeda) has announced that episode 5 of Nanaraki: Seven Lucky Gods, a series of anime shorts aired on YouTube, will feature the voice of Hashiyasume Atsuko from BiSH.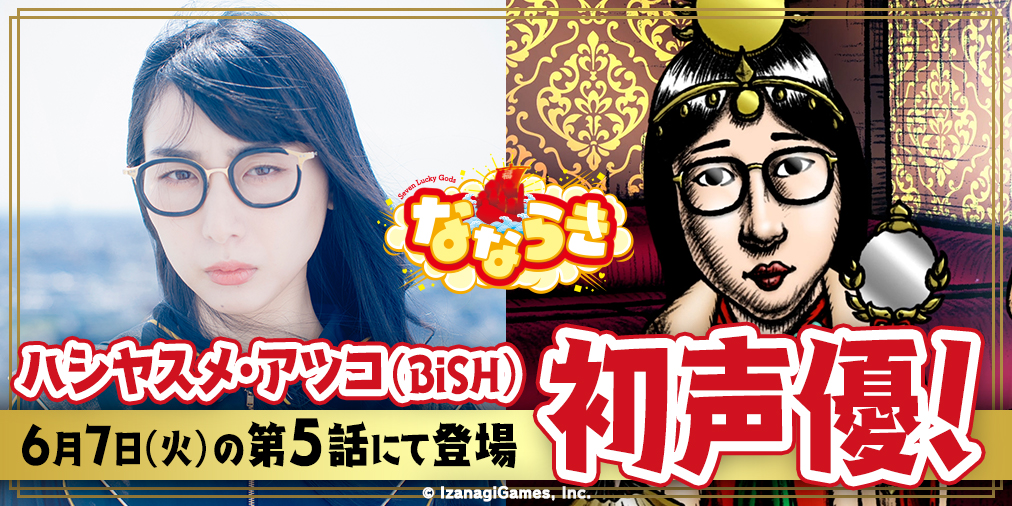 Episode 5 of "Nanaraki," which features Amaterasu, played by Hashiyasume Atsuko, who makes her voice acting debut in this anime, will be released on Tuesday June 7 at 12:00 (JST) on the official Nanaraki YouTube channel.
A sneak peek from episode 5: "Opulent Luxury! There's Me, And Then There's Everybody Else!"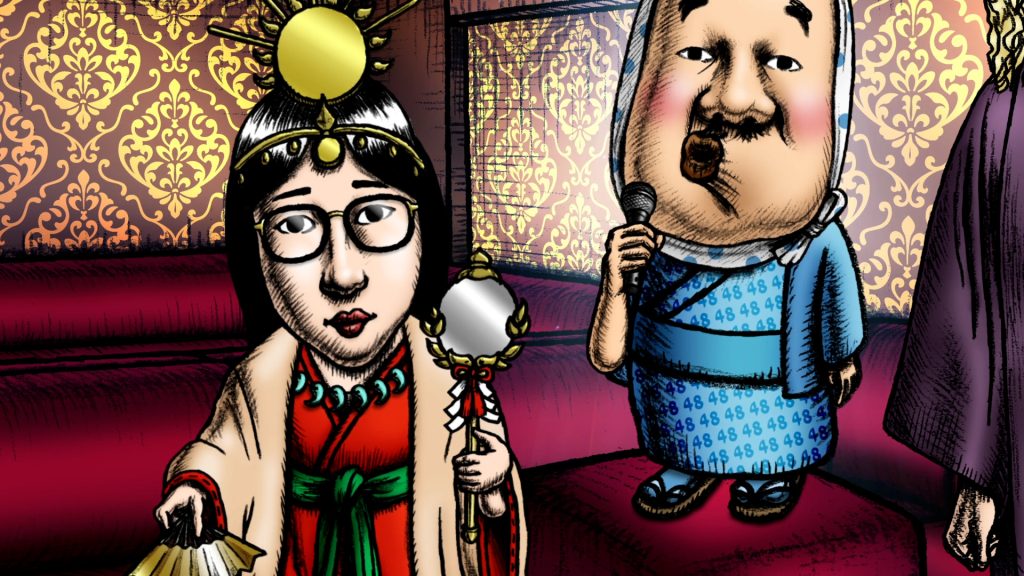 ■ Nanaraki preview videos are available only on Twitter!
Stay tuned on Nanaraki official Twitter!
https://twitter.com/nanaluckygods
■ Message from Hashiyasume Atsuko
About 4 years ago, I came across Oshirimaeman, one of Nanaraki's director Takashi Taniguchi's works, while I was browsing Twitter and I instantly got hooked on it! I still sing the theme song pretty often and whenever I do, other members from my group (BiSH) sing along with me and we have lots of fun.
As much as I want everyone to enjoy my first voice acting, I also want them to get to know Takashi Taniguchi and his exceptional talents as I'm a big fan of his myself.
I hope this will be an opportunity to let many people know how amazing Takashi Taniguchi's works are and how his illustrations bring a smile to everyone's face.
■ Hashiyasume Atsuko's profile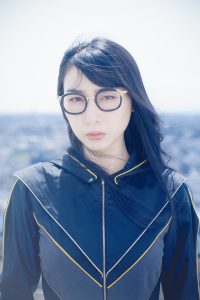 A member of BiSH, a punk band with no musical instruments.
Hashiyasume Atsuko plays a key role as the life of the party for BiSH, and comedy segments of their live shows where she fearlessly performs have become an indispensable part of BiSH's performances. She has also been featured many times on TV programs with her unique presence. In July 2019, Atsuko made her solo debut with single "A LA MODE" and burst onto the scene with her idiosyncratic talents.
She has established a distinctive position within BiSH, a group already full of unique individuals, by acting, appearing on variety shows, and MCing.
■ What is Nanaraki: Seven Lucky Gods?
Nanaraki: Seven Lucky Gods is a particularly auspicious series of anime shorts. It follows the undignified, decidedly un-divine lives of a group of gods, who've lost the faith of the people and come crashing down to this world.
Nanaraki features the voice of Takuya Eguchi and Soma Saito (with more guest voice actors set to join later, perhaps?) The theme song, Lucky Boy, Lucky Girl (https://youtu.be/PT6h9ea-zHA), is performed by Ryoff Karma.
New episodes of Nanaraki air on the official Nanaraki YouTube channel (https://bit.ly/3JT5uGC) on days ending in the lucky number "7".
Nanaraki: Seven Lucky Gods
Original work: TaniguchiUmeda
Direction / art / screenplay: Takashi Taniguchi
Planning / production: Shinsuke Umeda
Official website:
■ note (Nanaraki: Seven Lucky Gods and the Shichino Family – A Novel)
https://note.com/nanaluckygods/
As the absurd antics of the Seven Lucky Gods unfold, follow the lives of the human Shichino family. New chapters are released the day after each anime episode is released (dates ending in 8).
Author: Satoru Akatsuki
​
Nanaraki official social media pages:
◇ Twitter
https://twitter.com/nanaluckygods
◇ Tiktok
https://www.tiktok.com/@nanaluckygods
◇ Instagram
https://www.instagram.com/nanaluckygods/
◆ Takashi Taniguchi's Profile
Animator and Illustrator. His self-produced cartoons, including Mr. Ando of the Woods, Mukidashi no Mitsuko, and Oshirimaeman, all of which were written, illustrated, edited, voiced, and sung by himself, have become something of a cult hit on YouTube. Since then, he has branched out to work on anime titles including TV Tokyo's Pikotaro No Lullaby Lullaby and TVQ Kyushu's Duppys Weather Forecast, as well as online adverts for Fuji TV's drama Ōoku and Kao's Essential hair care series.
If you have requests or commissions for Takashi Taniguchi, please get in touch via:
https://izanagigames.co.jp/contact
​
◆ About IzanagiGames
IzanagiGames is headquartered in Koto-ku, Tokyo. The company produces interactive entertainment experiences, with a focus on console games, and is geared towards directly accessing the global games market with titles made in collaboration with Japanese creators. By expanding the company's range of fund procurement, IzanagiGames aims to provide opportunities for exceptional creators to make new IPs and games which are then delivered as entertainment experiences to fans across the world. IzanagiGames has released titles including Death Come True and World's End Club on a variety of different platforms worldwide.
・IzanagiGames' official website
・IzanagiGames' official Twitter account
https://twitter.com/izanagigames
・IzanagiGames' official YouTube channel
https://www.youtube.com/c/IzanagiGamesChannel
・Izanagi Z Store (the official IzanagiGames merchandise site)