月刊漫画誌ウルトラジャンプ2020年4月号(3/19発売)のコラム記事「ウルトラネクスト」のコーナーにて、実写インタラクティブムービー『Death Come True』が取り上げられました。
『Death Come True』の最新情報や、トゥーキョーゲームズの小高和剛(シナリオ兼ゲームディレクター)とイザナギゲームズの梅田慎介(プロデューサー兼CEO)のインタビューが掲載されています。
The April 2020 issue of the monthly manga magazine Ultra Jump (on sale Mar.19) features the interactive full-motion movie "Death Come True" in a column article titled "Ultra Next." The article features the latest information about Death Come True along with an interview with Kazutaka Kodaka of Too Kyo Games (game director/scenario writer) and Shinsuke Umeda of IzanagiGames (game producer/CEO).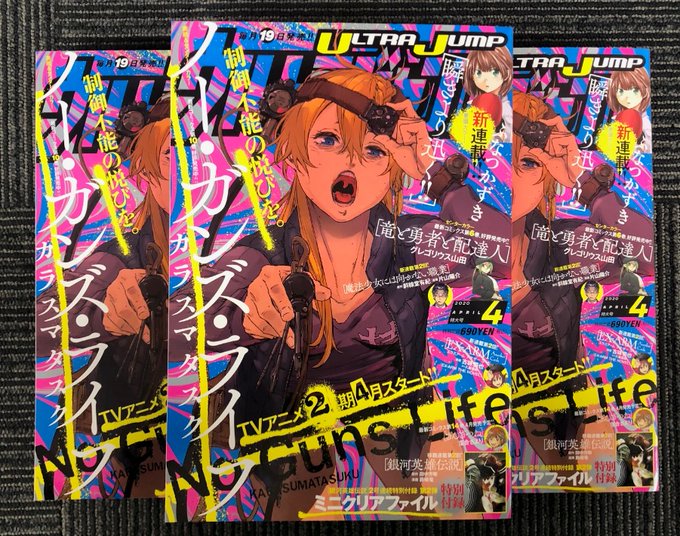 ◆記事の一部抜粋
◆Article Excerpt
ゲーム「ダンガンロンパ」シリーズすべての企画、シナリオを手がけた小高和剛氏がシナリオ&ゲームディレクターを務める、実写ムービーゲーム『Death Come True』がイザナギゲームズより6月に発売予定です。ディレクター・シナリオライターの打越鋼太郎氏、デザイナー・イラストレーターの小松崎類氏、コンポーザー・アレンジャーの高田雅史氏らと共にTooKyo Games を設立。漫画、アニメ原作、小説執筆など精力的に活動してきた小高氏。本作は、そんな小高氏が独立後にリリースされる、最初のゲームシナリオ担当作品でもあるだけに、同氏がどんな手腕を見せるのか、注目が集まっています。
Full-motion video game Death Come True written and directed by Kazutaka Kodaka, designer and scenario writer behind the Danganronpa game series, will be released in June by IzanagiGames. Mr. Kodaka founded TooKyo Games together with Kotaro Uchikoshi (director/scenario writer), Rui Komatsuzaki (designer/illustrator), and Masafumi Takada (music composer). Mr. Kodaka has been actively involved in writing mangas, original books for anime, and novels, etc. As Death Come True will be the first game written by him since the launch of his company, a lot of attention will be on how he displays his abilities in the project. 
 小高氏は、ストーリーの制作過程について次のように振り返ります。
「この作品の構想は、いつものように電波をキャッチしたところから始まりました。余談ですが、電波には3種類あって、良い電波と悪い電波と普通の電波です。普通の電波は普通の人には普通なんですけど、ボクは別宇宙からやってくる特殊な電波をキャッチすることができるので、それが作品作りのヒントになります。電波は至る所に存在していて、全人類は常に監視されているのです」
Kodaka looks back on the process of producing the story and goes on to say, "I got the idea of the story when I caught an electric signal as I always do. This is a little off-topic by the way, but there are three different types of the electric signal, a good signal, a bad signal, and a normal signal. The normal signal is what most normal people receive, but I am able to catch some special kind of signals that come from an alternate universe and that give me a hint to produce a piece of work. Actually, the signals are everywhere and all of humanity is under watch."
 謎めいたコメントを残した小高氏に続き、『Death Come True』の企画経緯や小高氏の起用について、イザナギゲームズのプロデューサー兼CEOの梅田慎介氏はこう話します。
「2019年の夏前くらいから企画がスタートしました。現在、今年発売予定のサスペンスパズルアクション『デスマーチクラブ』の制作を小高さんと一緒に進めているのですが、ある時、小高さんの大学時代からのお友達の鎌田さんというクリエイティブディレクターを紹介してもらいました。何か彼とやりたいと小高さんが言っていたので、『実写動画の本格インタラクティブムービーをやれば良いんじゃない?』と私から提案しました。そこからはかなりのスピードで進みましたね。なので、小高さんを起用したというより、小高さんたちに提案したの方が近いかもしれません。
After the mysterious remarks from Kodaka comes Shinsuke Umeda, producer and CEO of IzanagiGames, speaking about the background of the development of Death Come True, and how Kodaka has come into the picture. "The project planning started from the early summer of 2019. I had been working together with Kodaka on Death March Club, an upcoming suspenseful puzzle action adventure game that is scheduled for release this year, when one day, Kodaka introduced me to Kamata, a creative director who is his friend from college. Kodaka said that he wanted to collaborate with Kamata to make something, so I suggested that the two should create a full-motion interactive movie together. So it was not like that I appointed Kodaka for this project, it is perhaps more accurate to say that I brought up the idea to them.
本誌のインタビューには、制作過程秘話や魅力はもちろん、『Death Come True』に込められた思いなども掲載されています。続きは、本誌にてお楽しみください!
今後のDeath Come Trueの最新情報もお見逃しなく!
The interview in the article not only covers some behind-the-scenes stories and the appeal of the game, but also the thoughts behind Death Come True. We hope you will enjoy reading the rest of the full interview in the magazine.
Also, please stay tuned for the latest info on Death Come True!
◆デスカムトゥルー(Death Come True)について
本作最大の特徴は、映画とゲームを融合させた「インタラクティブコンテンツ」であることです。具体的には、プレイヤーの選択によってストーリーが展開し、それに伴い、複数のエンディングが存在します。主演を本郷奏多、シナリオ&ゲームディレクターをダンガンロンパシリーズの小高和剛、プロデューサーをイザナギゲームズ代表の梅田慎介が務める新たな実写ムービーゲームです。公式Twitterアカウントでも随時情報が更新されていきます。
◆About Death Come True
The most unique thing about this project is that it's "interactive content" that combines movie and game elements. The game's story will unfold according to decisions made by the player which then can result in multiple different endings, making it an exciting new work. The lead actor is Kanata Hongo, writing and game direction is by Kazutaka Kodaka, and the producer is IzanagiGames' CEO, Shinsuke Umeda. Information will also continue to be updated on the official Twitter account.
・デスカムトゥルー(Death Come True)公式Twitterアカウント
・Death Come True official Twitter account 
 https://twitter.com/DeathComeTrue 
・デスカムトゥルー(Death Come True)公式Webサイト
・Death Come True official website