2020年2月6日に新宿バルト9にて開催されたDeath Come Trueの制作発表会について、『B's-LOG』 ならではの視点で、制作発表会のレポートやDeath Come Trueの魅力が掲載されています。
The latest issue of B's-LOG magazine features an article about Death Come True and the product presentation event that was held for the game at Shinjuku Wald 9 on February 6th, 2020. The article gives a report of the product presentation event and the appeal of Death Come True from the unique perspective of B's-LOG.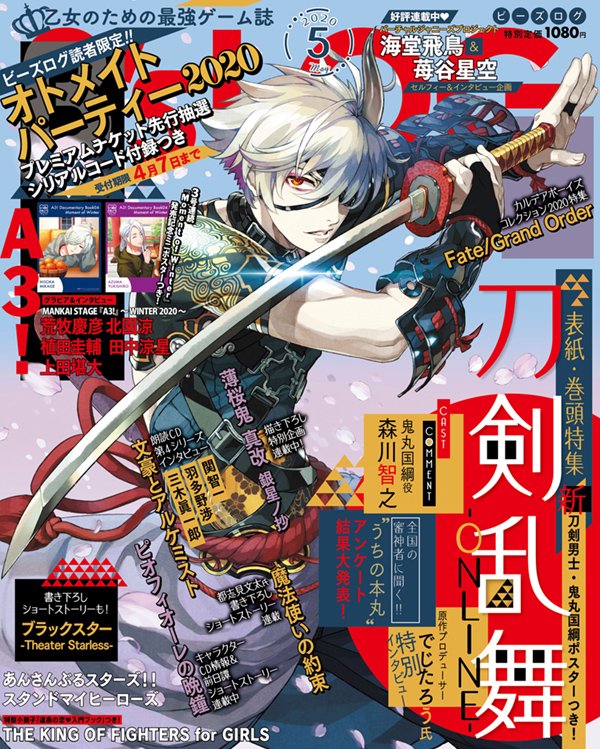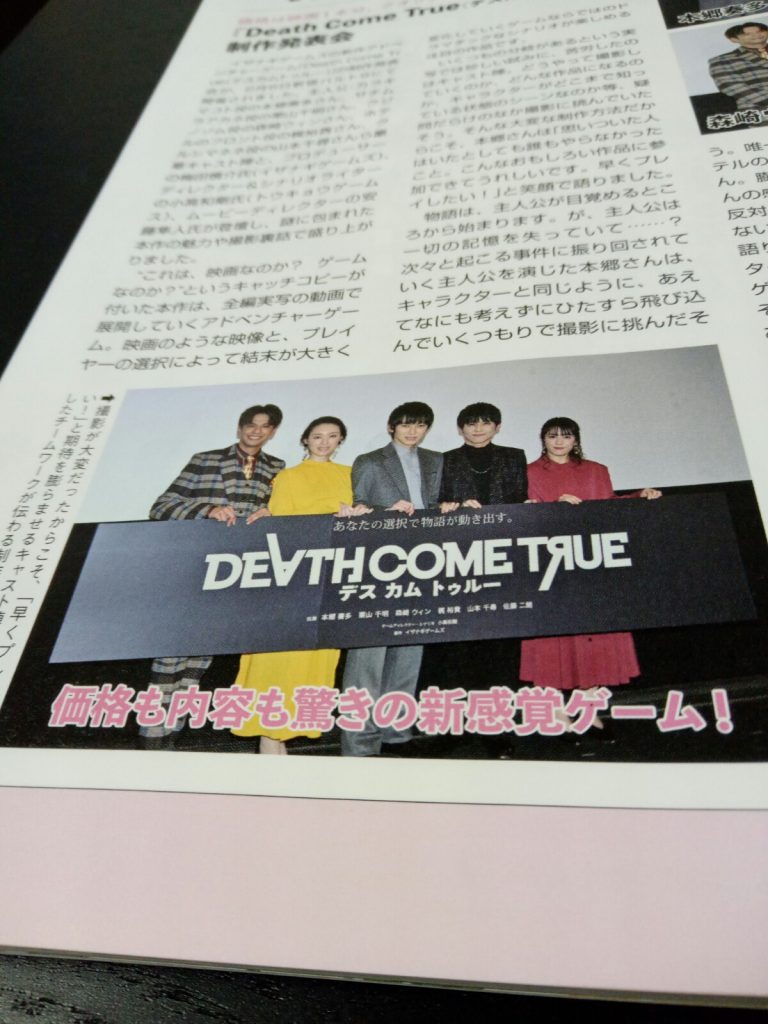 ◆記事の一部抜粋
◆ Article Excerpt
価格は映画1本分、クオリティはゲーム以上!
For the price of a single movie ticket, players get an experience that goes beyond the typical video game!
『Death Come True(デスカムトゥルー)』制作発表会
Death Come True Product Presentation Event
 イザナギゲームズの新作アドベンチャーゲーム『Death Come True(デスカムトゥルー)』の制作発表会が、2月6日新宿バルト9にて開催されました。主人公・カラキマコト役の本郷奏多さん、サチムラアカネ役の栗山千明さん、クジノゾム役の森崎ウィンさん、ホテルのフロント役の梶裕貴さん、クシマネネ役の山本千尋さんら豪華キャスト陣と、梅田慎介氏(イザナギゲームズ)、ディレクター&シナリオライターの小高和剛氏、ムービーディレクターの安藤隼人氏が登壇し、謎に包まれた本作の魅力や撮影裏話で盛り上がりました。
On February 6, 2020, IzanagiGames held a product presentation event at Shinjuku Wald 9 for its new adventure game, Death Come True. Appearances at the event included Kanata Hongo (starring as Makoto Karaki), Chiaki Kuriyama (Akane Sachimura), Win Morisaki (Nozomu Kuji), Yuki Kaji (hotel concierge), Chihiro Yamamoto (Nene Kurushima), Shinsuke Umeda (IzanagiGames), Kazutaka Kodaka (game director/story writer) as well as Hayato Ando (movie director). The cast members and development team gave an inside look at the project, giving first-hand details about this mysterious new project.
 "これは、映画なのか? ゲームなのか?"というキャッチコピーが付いた本作は、全編実写の動画で展開していくアドベンチャーゲーム。映画のような実写映像と、プレイヤーの選択によって結末が大きく変化していくゲームならではのドラマチックなシナリオが楽しめます。
Appearing with the catchphrase "Is this a game? Or is it a movie?", Death Come True is an adventure game made using full-motion video. Players can enjoy live-action video like a real movie with dramatic storylines unique to the game, and an ending that changes greatly depending on the player's choices.
 いくつもの分岐があるという実写では珍しい試みに、苦労したのはキャスト陣。どうやって撮影していくのか、どんな作品になるのか、キャラクターがどこまで知っている状態のシーンなのか等、疑問だらけのなか撮影に挑んでいたそう。そんな大変な制作方法だからこそ、本郷さんは「思いついた人はいたとしても誰もやらなかったこと。こんなおもしろい作品に参加できてうれしいです。早くプレイしたい!」と笑顔で語りました。
The project's cast worked to tackle the unusual challenge of live-action filming with several story branches. There seemed to be many challenging questions during the filming process, such as how to shoot the scenes, what kind of product will this be, how much do characters know in each scene, etc. Because the process itself is such a difficult production method, Mr. Hongo said, "Even if someone had come up with the idea before, nobody had yet to actually do it. I am so glad to be able to participate in such an interesting project. I want to play it as soon as possible!" said Mr. Hongo with a smile.
この他、制作発表会での貴重なキャスト陣の様子や、制作発表会の空気感まで伝わってくるレポートや写真が掲載されています。続きは、本誌にてお楽しみください!
The article goes on to detail the appearances of the cast members and describes the atmosphere of the presentation event. For more info, please check out the full article in the magazine!
◆制作発表会の冒頭で公開されたティザー映像第3弾
◆ Teaser Vol.3 – Revealed at the beginning of the presentation event
ティザー映像URL:
Teaser video link:
本郷奏多(主人公のカラキマコト)、栗山千明(女性捜査官のサチムラアカネ)、森崎ウィン(男性捜査官のクジノゾム)、梶裕貴(ホテルのフロント)、山本千尋(サイコパス少女のクルシマネネ)、佐藤二朗(ニュースキャスターのミノウケンイチ)が出演、音楽はダンガンロンパシリーズ、サイコブレイク、killer7などの高田雅史氏が担当しています。
Kanata Hongo (as the main character, Makoto Karaki), Chiaki Kuriyama (as the female police investigator, Akane Sachimura), Win Morisaki (as the male police investigator, Nozomu Kuji), Chihiro Yamamoto (as the psychopath girl Nene Kurushima), and Jiro Sato (as the news anchor, Kenichi Mino) appeared in the teaser movie. The music was composed by Masafumi Takada, whose works include the Danganronpa series, The Evil Within, and killer7.
◆デスカムトゥルー(Death Come True)の最新情報も随時更新中!
・デスカムトゥルー(Death Come True)公式Twitterアカウント
・Death Come True official Twitter account 
 https://twitter.com/DeathComeTrue 
・デスカムトゥルー(Death Come True)公式Webサイト
・Death Come True official website