 冤罪執行遊戯ユルキル Yurukill
あらすじ
監獄で目覚めた春秋千石。狐の仮面を被ったびん子と名乗る女が言う。
「実刑を受けている犯罪者のあなたにチャンスをあげましょう。これからとある遊園地の
様々なアトラクションに挑み、勝利すれば無罪放免です」
「違う、俺は冤罪なんだ!」
さらに現れたのは、自分の犯した罪の被害者の薊リナだった。
「春秋千石。忘れもしない名前。私の家族を全員殺したあなたを、絶対に許さない」
千石は21人の家族を焼き殺した放火殺人犯として服役中の身なのだ。
当然、被害者は千石の冤罪主張を信じてはいない。
千石の他にも、4組の犯罪者と被害者がいる。
犯罪者を『囚人』、被害者を『執行人』と呼び、ペアを組んでアトラクションに臨む。
6人の犯罪者と、5人の被害者。
「大量殺人チーム」「双子殺人チーム」「謀略殺人チーム」「ストーカー殺人チーム」
「覗き魔チーム」――。
囚人は無罪を勝ち取りたい。
執行人は勝てば望んだものが手に入る。恨みを晴らすこともできる――。
舞台は無人の遊園地『ユルキルランド』。
アトラクションに挑むなかで明かされていく、それぞれの秘密。
残酷で狡猾なこのユルキルランドで勝ち残るのは、誰か。
STORYLINE
Sengoku Shunju wakes up in his prison cell.
A lady wearing a fox mask introduces herself as Binko and says: "Sengoku Shunju, you are a criminal sentenced to years in prison, you've been offered the chance to gain your freedom.
You must survive various 'attractions' in an amusement park and if you succeed, your crimes will be pardoned."
"No, you've got it all wrong, I've been falsely accused! I'm innocent!"
Then a victim of the crime he was accused of committing appeared, it was Rina Azami.
"Sengoku Shunju, a name that I will never forget. You killed my entire family. For that, I will never forgive you."
Sengoku is in prison under charges of being an arson killer who burned all 21 members of Rina's family to death. Naturally, the victim does not believe a word of Sengoku's claims of innocence. Along with Sengoku are 4 other groups of criminals and victims.
The accused criminals are called "prisoners," and the victims are called "executioners." The criminals and victims will be paired up together to face the amusement park's attractions.
There are a total of 6 criminals and 5 victims. There are 5 teams: Mass Murderers, Duo Death Dealers, Crafty Killers, Sly Stalkers, and Peeping Toms. The prisoners hope to win the challenge so that they may be pardoned.
If the executioners win, they will receive their wishes and will be able to clear their resentment of the prisoners.
The challenge takes place in an abandoned amusement park called "Yurukill Land".
Various secrets will come to light as they try to escape each attraction.
Who will be the one to survive the cruel and devious place that is Yurukill Land?!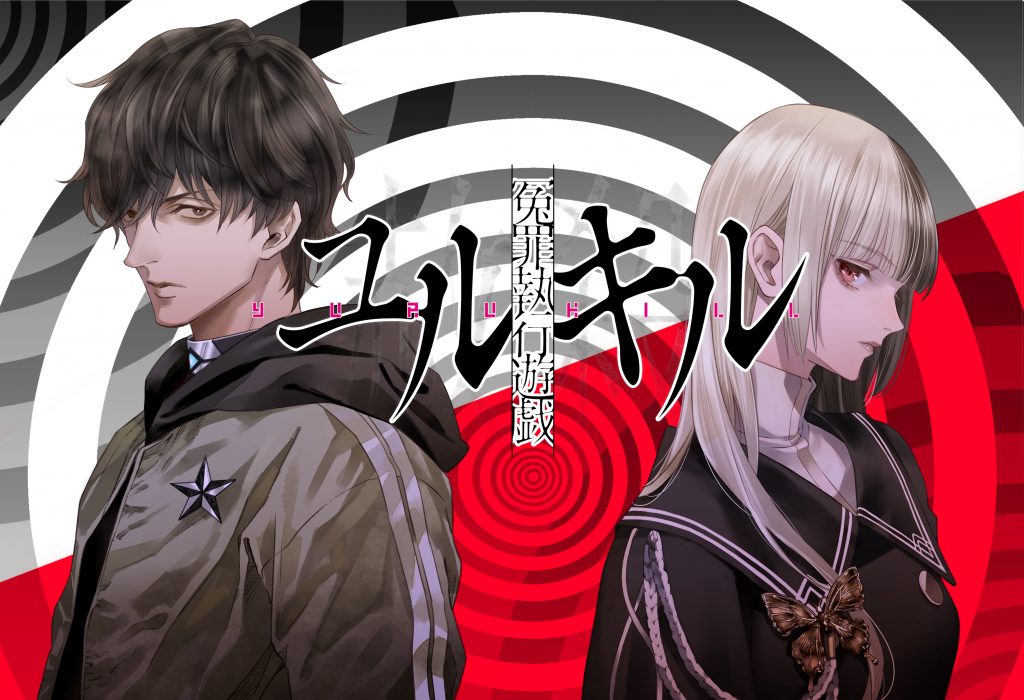 冤罪執行遊戯ユルキル  Yurukill Official Twitter:
PREV/
NEXT